ARE YOU MOVING TO SHANGHAI?
This free Concordia Concierge Shanghai City Guide
WILL TELL YOU EVERYTHING YOU NEED TO KNOW about moving to this vibrant city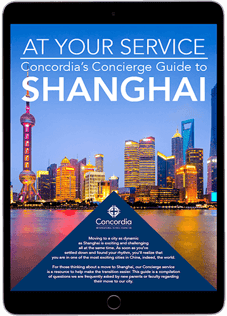 Moving to a city as dynamic as Shanghai may prove challenging, but as soon as you've settled down and gathered your bearings you'll begin to live in one of the most exciting cities in China. For those who are thinking about living in Shanghai, our Shanghai City Guide is here to serve as a resource to make the transition easier.
In this comprehensive guide you'll find answers to questions such as:
Where do expats live in Shanghai?

How do I find a doctor and medical treatment?

How safe is it to live in Shanghai?

What is the air quality like?

How do I find transportation around the city?